Sorry, this show has closed.
Important Dates
| | |
| --- | --- |
| Opening | jan 31, 2012 |
| Closing | feb 12, 2012 |
Gift Certs
Give tickets to a show as a gift!
Description
The daughter of Eddie Fisher and Debbie Reynolds, Carrie Fisher became a cultural icon in her own right at the age of 19, when she starred as "Princess Leia" in the Star Wars trilogy. In Wishful Drinking, she tells the true and intoxicating tale of her life as a Hollywood legend - with all the wry wit she poured into such bestsellers as Postcards from the Edge - in an uproarious and sobering look at her "Hollywood hangover".

Wishful Drinking premiered in 2006, in Los Angeles, and has since completed sell-out runs in theatres across the U.S., culminating in a wildly successful engagement at Broadway's Studio 54 this year, winning the prestigious 2010 Outer Critics' Circle Award. The show received rave reviews on Broadway. In The New York Times, critic Ben Brantley described it as, "An extremely funny full-frontal confession. You're going to like it. A LOT." Michael Kuchwara, of the Associated Press, called it, "A hilarious journey through a world of celebrity, chock-full of funny, fascinating talents." And TimeOut New York declared Wishful Drinking to be, "Dirty, delightful and hilarious!"
Should I see it?
What is Wishful Drinking like?
A colorful evening of what Fisher calls "talking about myself behind my back," Wishful Drinking is a breezy combination of one-liners and behind-the-Hollywood-scenes-gossip, all relayed with Fisher's withering, dry humor. The actress invites the audience to meet the skeletons in her closet, keeping the ...
Wishful Drinking Seat Map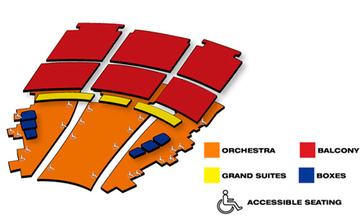 What's Near By
Parking:
Baltimore Parking None,