Sorry, this show has closed.
Important Dates
| | |
| --- | --- |
| Opening | apr 14, 2017 |
| Closing | apr 14, 2017 |
Gift Certs
Give tickets to a show as a gift!
Description
The Hippodrome Theatre is thrilled to announce the inaugural live concert event ROCKTOPIA LIVE: A Classical (R)evolution. This groundbreaking live concert performance celebrating the fusion of classical music with classic rock features five world-class vocalists and five top rock musicians.

ROCKTOPIA LIVE is an inspiring and uplifting entertainment spectacle that brings a whole new way of enjoying the best of classical music and classic rock to audiences. ROCKTOPIA LIVE delivers one-of-a-kind musical arrangements blending Beethoven with Journey, Strauss with The Who, and more in musical mash-ups that surprise and delight. Conducted by Maestro Randall Craig Fleischer, the concert showcases the works of classical composers as well as rock bands, including the music of Mozart, Journey, Handel, U2, Tchaikovsky, Heart, Beethoven, Styx, Foreigner, Rachmaninoff, Pink Floyd, Copland, The Who and more.
Rocktopia Live

Seat Map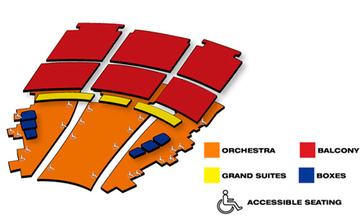 What's Near By
Parking:
Baltimore Parking

None,