Sorry, this show has closed.
Important Dates
| | |
| --- | --- |
| Opening | may 29, 2018 |
| Closing | may 29, 2018 |
Gift Certs
Give tickets to a show as a gift!
Description
The National Ballet of Ukraine will present the famously jovial "Don Quixote" on stage of the Hippodrome Theatre. An outstanding classical ballet piece is conspicuous for the dazzling choreography, unsurpassed sets, and vivid costumes. A most admired dancing performance of the 20th century staged by the Company presents a remarkable example of the classical Russian ballet techniques mingled with the contemporary interpretation of dancing methods, so that the lightweight and precise performers' movements appear as soaring over the stage.
The National Ballet of the Ukraine Presents Don Quixote

Seat Map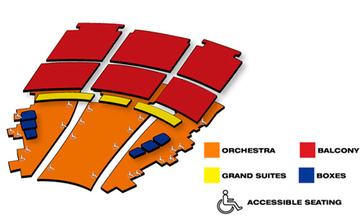 What's Near By
Parking:
Baltimore Parking

None,