Important Dates
| | |
| --- | --- |
| Opening | nov 05, 2017 |
| Closing | nov 05, 2017 |
Gift Certs
Give tickets to a show as a gift!
Description
Ian Anderson is coming to the Baltimore Hippodrome on Sunday, November 5, 2017 with JETHRO TULL by Ian Anderson. The concert will feature a solid collection of the best-known Tull repertoire from 1968 to date. Fans will recognize the key songs from various albums - songs which put Jethro Tull and Ian Anderson on the map in the late '60s and early '70s - with most of them accompanied by big screen HD video elements to enhance the concert experience. Favorites include: "Dharma For One" in 1968, "Bourée," "Nothing Is Easy," "A New Day Yesterday," "Living In The Past," "Aqualung," "Locomotive Breath," "My God," "Aqualung" and on through to "Thick As A Brick" and material from the albums of the next three decades. A couple of recent works round out the concert selection which may vary a little from night to night.
Ian is accompanied by Tull members David Goodier (bass), John O'Hara (keyboards), Florian Opahle (guitar), Scott Hammond (drums).
In 2017, JETHRO TULL by Ian Anderson will play in Australia and New Zealand during April with further tours and concerts throughout Europe, USA and South America to come later in the year.

In addition to the tour there will be a new a new album from Anderson and England's The Carducci String Quartet. Jethro Tull - The String Quartets will be available in the USA on March 24, 2017 via The End Records/BMG. The album is now available for pre-order on Pledge Music at http://www.pledgemusic.com/projects/jethro-tull-string-quartets. Look out for more information at www.jethrotull.com
Jethro Tull by Ian Anderson

Seat Map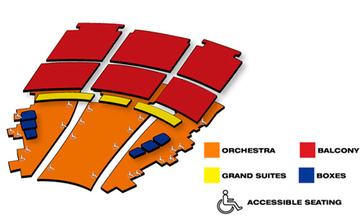 Buy Jethro Tull by Ian Anderson Tickets
What's Near By
Parking:
Baltimore Parking

None,