Sorry, this show has closed.
Important Dates
| | |
| --- | --- |
| Opening | feb 23, 2018 |
| Closing | feb 23, 2018 |
Gift Certs
Give tickets to a show as a gift!
Description
Due to circumstances beyond our control, Demetri Martin scheduled for Saturday, September 23rd has been postponed until Friday, February 23rd. All tickets will be honored for the new date.

Demetri Martin is a standup comedian, writer, actor and director. He began doing standup comedy in New York City, where he worked as a staff writer at Late Night with Conan O'Brien. After working at Conan, Demetri became a regular performer on The Daily Show with Jon Stewart.

After developing his standup comedy into narrative one-man shows, Demetri won the Perrier Award at the International Fringe Festival in Edinburgh, Scotland for his show, If I. At the Melbourne International Comedy festival his show, Dr. Earnest Parrot Presents Demetri Martin won Australia'sBarry Award. Demetri has released two standup comedy albums and three hour-long standup comedy specials, including his latest for Netflix, Demetri Martin Live (at the time).

Demetri created and starred in his own television series for Comedy Central called Important Things with Demetri Martin. He has also appeared in feature films and television shows including Ang Lee's Taking Woodstock, Steven Soderbergh's Contagion, Lake Bell's In a World, Fox's "New Girl" and Showtime's "House of Lies" among others.

Demetri's first two books, This Is a Book and Point Your Face at This, were both New York Times Bestsellers. His fiction has appeared in The New Yorker, Esquire, and The New York Times Magazine.

Demetri recently wrote and directed his first feature film, Dean, which won the Founder's Prize at the Tribeca Film Festival for best narrative American feature film. CBS Films will release the film in June. In the fall, Demetri's third book, If It's Not Funny It's Art, will be published by Hachette. It will feature his original drawings from Dean.
Demetri Martin - The Awkward Tour

Seat Map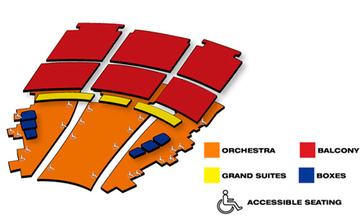 What's Near By
Parking:
Baltimore Parking

None,